Testing & Analysis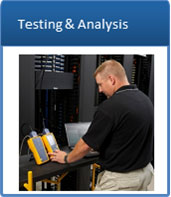 Assessing and testing the electrical and mechanical systems used to power and cool the critical loads is vital in meeting current availability requirements. Our highly trained professionals can conduct Performance Testing, Maintenance Testing, and System Testing. All testing can be performed at the system, segment, equipment, or component levels.


Performance Testing is used to measure a material, a product, or a system's performance characteristics either to confirm that it meets the design specifications or the intended use.

Maintenance Testing is used to either identify equipment problems, diagnose equipment problems or to confirm that repair measures have been effective.

System Testing is testing conducted on a complete, integrated system to evaluate the system's compliance with its specified requirements.

To learn more about our offerings, please contact us directly or email us.

Head Office: 905-625-9293
Toll-Free: 877-454-4454