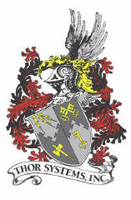 THOR Systems of Richmond, Virginia designs and manufactures a creative and high quality line of surge protection devices. THOR products are designed for a wide range of applications including data centre components and other critical electronic equipment found in such fields as manufacturing, telecommunications, broadcasting, and health care. Surge protection systems also help improve operating efficiency with applications such as computer-aided design (CAD), computer-aided manufacturing (CAM), digital graphic creation, software development, and financial modeling.
There is no single surge protection system that is right for all applications. This is precisely the niche and focus of the broad product line available from THOR.
Why Surge Protection?
Nearly every electrical device used in today's society has electronic components. Technology has become an integral part of almost everything we use in out daily life, from traffic lights to communications to the water that flows in and out of building. These advances are beneficial to society in ways that most people take for granted, until something is no longer working as it should – or not at all. Often, it is because the electronic components have been damaged by surges.
In a data centre, the use of surge protection devices is vital to protect automatic transfer switches (ATS). The ATS controls and transfers power from the normal utility source to the alternative power source (usually a backup generator). The ATS has sensitive electronic control logic to constantly monitor the normal power source, sense power failures, signal the generator to start, control the transfer from normal utility source to generator, and re-transfer when utility power returns.
Protecting the electronic controls at the heart of an ATS is crucial. Surge protection is an important and often overlooked design component. There are multiple sources of transients having the potential to cause hardware and logic card failures, which could disable an ATS. Externally generated transients such as lightning, utility grid switching, power line arcing, and electrical accidents represent less than 20% of all transient activity but are typically high magnitude conditions. These events cause immediate damage to electrical systems and can destroy sensitive equipment. Internally generated transients created by changes in electrical demand, involving inductive and capacitive loads (starting and stopping of electrical motors, machine processes, pumping equipment, and HVAC systems) are typically smaller in magnitude but much more frequent and equally damaging. These conditions lead to hardware failures for no apparent reason, and losses caused by inability to transfer power sources. If surge protection devices (SPDs) are not installed to divert these transient events, the lowest impedance path will be the sensitive electronic controls within the ATS.
Effective surge protection may need to be provided on the utility side, generator side, and the load side of the ATS. These SPDs provide maximum power reliability for essential applications. In less essential applications, the generator side SPD may not be required or the generator may be inside the facility in close proximity to the ATS. If only one SPD is to be used, it is recommended on the utility side of the ATS, as the worst potential, high magnitude transients will come from the external sources.
Surge Protection Devices (SPDs) are also vital for a broad range of other electrical equipment and devices such as UPS units in a data centre, production equipment on a factory floor, and communications network devices. Indeed, all kinds of systems and equipment in a commercial building using microchip sets for more efficient control of their electrical power are vulnerable and likely to be damaged by voltage surge impulses, which occur with regular daily electrical functions within a facility. Over time, these electronic devices may also become degraded by such impulses. Millions of dollars a year are spent on replacing blown circuit boards, relays, contactors, and a myriad of other electrical devices. Ten years ago, surge protection was considered only for high end projects or very expensive equipment. Today, it needs to be implemented in a wide range of electrical systems.
THOR Systems TSn Series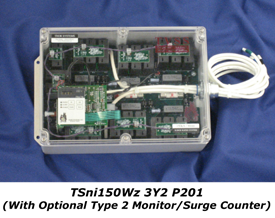 For AC hybrid design surge protection, THOR Systems offers the TSn Series, a non-modular, third generation surge protective device (SPD). These high performance SPDs are suitable for service entrance or distribution panel applications. THOR's single-tile architecture (using the StakTraks™ design) is the base building block for the TSn product platforms, offering 50, 100, and 150kA/mode surge protection utilizing an optional two- or three-tier hybrid design.
The TSn Series is available in two configurations – TSni "Industrial" and TSnc "Commercial" – for all three surge ratings. The TSni (Industrial Series) is a three-tier design featuring thermally protected metal oxide varistors (TpMOVs), "fail-safe devices" with integrated thermal and dielectric (arc shield) protection, paired with silicon avalanche diodes (SADs), and sine wave tracking filter capacitors. The TSnc (Commercial Series) offers and two-tier hybrid design featuring TpMOVs and sine wave tracking EMI/RFI filter capacitors and a one-tier hybrid design with TpMOVs only.
Other features applicable to both the TSni and TSnc:
UL 1449 3rd Edition Compliant

Full L-L, L-N, L-G, N-G all mode protection

Standard NEMAA 4X polycarbonate enclosure

Transparent enclosure cover to observe construction, system status, and quality of workmanship

Tested at the most severe levels to deliver full rated surge protection capacity on each mode of protection

Monitoring designates fully operational (green LED) and loss of protection (red LED)

TSn SPDs are prewired with #10 AWG high performance low impedance Rope-Lay wire providing improved surge protection performance from 17% to 30% by reducing high frequency skin-effect losses

Options available on these units include a surge counter with eight user selectable sensitivity settings, an audible alarm, use of 1,500W or 15,00W SADs, remote monitoring, and flush mount plates
THOR Systems TSr Series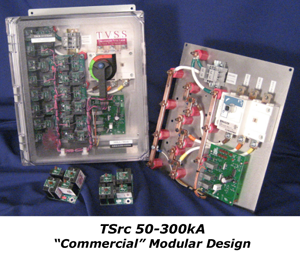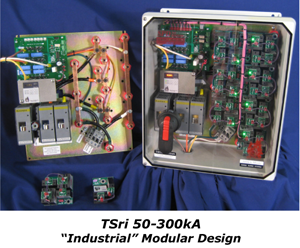 THOR also manufactures a wall mounted power distribution unit, the Mac Victor Power Network (MVPN). This product combines a UL listed centralized isolated power network with an integral on-line UPS. The MVPN provide clean and continuous power (battery back-up) for critical electronics such as point of sale or back office gear, network racks, and communications system equipment.
Features and benefits of THOR's MVPN:
UL 1778 2nd Edition Listed

Available in 2.0 or 2.0kVa configurations

Insures continuous operation of electronic systems in power outages and power quality disturbances

Reduces expense from downtime due to software lockup, data loss, and hardware failure

Eliminates remotely located plug-in UPS devices, surge strips, and filters

Includes integrated circuit breakers (up to 5 branch circuits) with optional integrated IG receptacles

Reduces new construction costs by eliminating the need for a dedicated circuit breaker panel

Wall mounted design saves floor space and under counter/desktop space

Bypass Switch (make before break) provides seamless power during UPS maintenance

Input and output power pilot lights for status indication and ease of troubleshooting

On-line double conversion UPS provides voltage and frequency regulation

Integral shielded low impedance isolation transformer

40kA input and output surge protection with EMI/RFI filtering