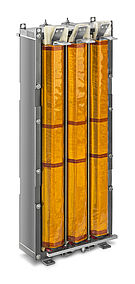 ONYX is a leading supplier of Line Reactors used in medical, semiconductor, oil and gas and other markets requiring specialized high frequency magnetics. ONYX line reactors reduce harmonics to increase drive system reliability and up time, as well as protect equipment against low-frequency interference thus improving total power factor.
Applications include:
Adjustable Frequency Drives
Inverters
Uninterruptible Power Systems (UPS)
Rectifiers
Medical Imaging Equipment
Semiconductor Manufacturing
Oil & Gas Production
Switch Mode Power Supplies
Motor Control Systems
ONYX Line Reactors are available in voltage ranges up to 15kV and capacities up to 5 MVA three phase.