Sentry Power Manager: Rack-level data center power monitoring and management
You've always wanted a rack–level data center power management system that gives you the power and environmental data you need, predicts where you may have future issues, lets you manage all of your PDUs from one dashboard, alerts you to and diagnoses problems. It's time for SPM. Unbelievable functionality. Affordable and easy. You'll be up and running in less than an hour to manage your entire network from wherever you are.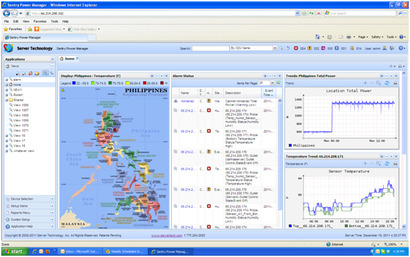 Manage your entire PDU network from anywhere. Virtualized. Plug & play.
The most affordable and accurate system available to measure, monitor and trend data center power. A flexible, stand alone power monitoring system, or middleware for DCIM or BMS integration, that makes managing your PDUs easy. SPM features a user friendly, single pane of glass dashboard view of your data center or enterprise.

Get the data you need to make critical decisions regarding improving your uptime and energy efficiency while reducing costs and carbon footprint. Right at the rack level. Find out why the world's top companies rely on SPM.

"Sentry Power manager doesn't just tell you that a cabinet has a problem; it gets out a map and shows you where the problem is." Marty Sems, Processor

"Server Technology's SPM Takes the Guesswork out of Data Center Efficiency with Predictive Trending Analysis"
SPM helps you manage today's biggest data center challenges:
Improving Uptime
Increased Power Costs
Lower Power Availability
Higher Density Cabinets
Capacity Planning
Green Initiatives
Continuous Measurement
New Version– just released.
It's the most feature-rich, comprehensive version yet with unique functionality, only from Server Tech . SPM's new Plug & Play SNAP feature and single pane of glass dashboard makes managing your entire PDU network easy. Manage your network from anywhere. At a glance data center views to manage, auto-discover, individually and group configure and upgrade.

Predictive Trending Analysis. This new feature gives you insight into the future or past as you make decisions regarding your data center power. The predictive analysis can also generate "red alert" alarms based on future trends.

Automated Cabinet Redundancy Status. Ensures cabinet redundancy if a power in-feed is lost, including stats report and bar graphic.
Capacity planning tool. You'll know where you have power and "U" space availability in your cabinets. SPM lets you run reports by available capacity or "U" space.

Your choice of application – virtual or appliance. Your choice of system – middleware for DCIM integration or stand-alone power monitoring. All designed by data center power experts committed to quality, innovation and helping you save money and meet your energy efficiency goals.

SPM's single pane of glass dashboard. At-a-glance ease to manage your entire PDU network.